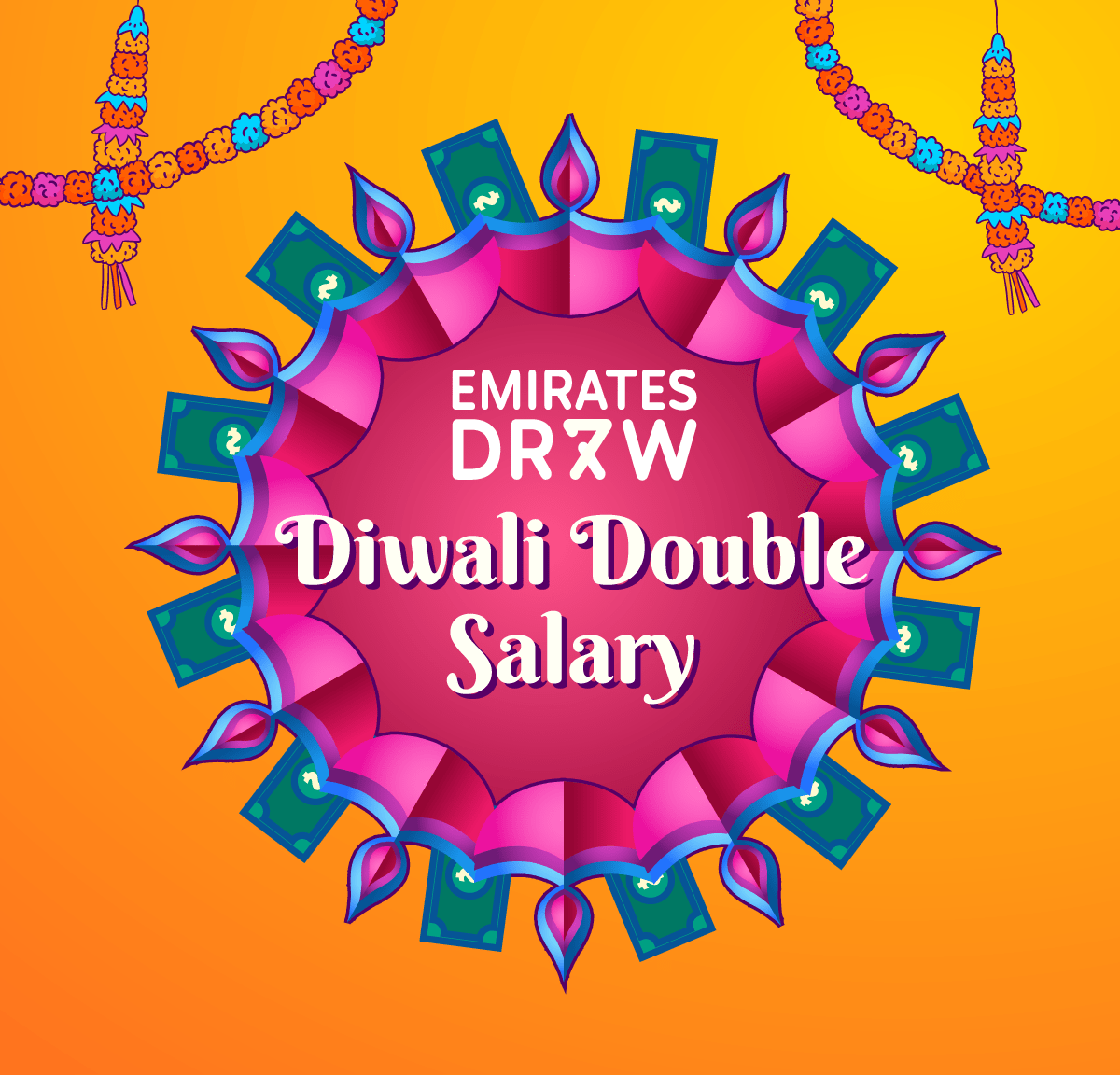 Emirates Draw Diwali Double Salary with Radio 4 id here to make your Diwali extra special bringing you once in a lifetime opportunity of standing a chance to WIN one month's salary, thus making anyone's ultimate dream wish come true with DSS aka 'Diwali Double salary' style!
To participate and stand a chance to WIN, please fill out form below.
DIWALI DOUBLE SALARY Campaign with Radio4
Terms & Conditions
Entry Restrictions
o    Nominee (if applying for self) and nominated person (if applicable) - both must be 18 years or above.
Relevant State(s)
Emirates Draw Diwali Double Salary 2023 is a Channel 4 Radio Network promotion with 89.1 Radio 4 FM, broadcasting in the UAE.

o    Entries are restricted to residents of United Arab Emirates.

o    Nominated person must be working full time, part time or WFH but based in any of the UAE emirates only.

o    Overseas residents, students and visitors on UAE Tourist/ Business Visas are ineligible.

o    Directors, management, employees and contractors of the Promoter and those of any agencies, retailers and suppliers directly associated with this Promotion, including Sponsors, prize provider, and the immediate family members of these people are ineligible to enter.

o    "Immediate family member" means spouse, parent, natural or adopted child, and sibling (whether natural or adopted by a parent), whether or not they live in the same household as the director, manager, employee, officer or contractor.

o    No proxy participation in radio contests or promotions are allowed. No pseudo name participations allowed.

o    You must participate as per your name on your passport or valid recognized UAE ID.

o    The promotion period is from 31th October – 10th November, 2023; as also specified and announced on air and on https://www.radio4fm.com/

o    Participants will be selected to play from the online registration process only.

o    Final winner/s will be contacted with all the details as and when relevant

o    Winners must be willing to share salary proof, to be eligible for receiving the reward money.

o    Prizes are non-transferable and non-exchangeable in any other form like gift voucher etc.

o    Once shortlisted as winner, amount cannot be sublet or transferred to anyone else.

o    In case of any last minute discrepancy in nominations found, Channel 4 Network reserves the right to partly or fully nullify or cancel the set amount.

o    Aside from paying equivalent of one month salary amount, Channel 4 Network is not liable to bear any additional cost or reimburse any other expenses - in form of monetary support or otherwise.

o    SMS charges of AED 2.00 per SMS applies.

 
EMIRATES DRAW DIWALI DOUBLE SALARY 2023 specific

Terms & Conditions

o    All entries into the competition must meet the eligibility requirements as outlined. Channel 4 Radio Network reserves the right to disqualify contestants at any stage during the promotion if the requirements are deemed not to have been met. This can be done even after the prizes have been awarded.

o    Channel 4 Radio Network has the right to change prizes last minute if required with or without prior winner notification.

o    Entry to the competition is as per the mechanics announced on air and filling the website form is the first mandatory step for first step of shortlisting.

o    Competition mechanics can be altered or changed by Channel 4 Radio Network at any time. Details of such changes will be announced on air and on https://www.radio4fm.com/

o    Contestants must be available to be contacted by telephone or be physically present at Radio 4 FM studio as and when required. If the chosen winner cannot be contacted or is disqualified, Channel 4 Radio Network reserves the right to declare a new winner basis their discretion.

o    The prize winners will be as per the competition mechanics and the decisions made by Channel 4 Radio Network is final in every situation, including any situation that is not covered above.

o    Standard Radio Station Terms & Conditions Apply.

 
Liability

o    The Promoter will not be responsible for any incorrect, inaccurate or incomplete information communicated in the course of or in connection with this promotion if the deficiency is occasioned by any cause outside the reasonable control of the Promoter including without limitation technical malfunctions or failures.

o    If for any reason this promotion is not capable of running as planned because of infection by computer virus, bugs, tampering, unauthorized intervention, technical failures or any other causes beyond the control of the Promoter which corrupt or affect the administration, security, fairness, integrity or proper conduct of this promotion, the Promoter reserves the right in its sole discretion to cancel, terminate, modify or suspend the promotion subject to any written directions under applicable legislation. The Promoter also reserves the right in its sole discretion to disqualify any individual who the Promoter has reason to believe has breached any of these conditions, or engaged in any unlawful or other improper misconduct calculated to jeopardize the fair and proper conduct of the promotion. The Promoter's legal rights to recover damages or other compensation from such an offender are reserved.

o    The Promoter is not responsible for any problems or technical malfunction of any telephone network or lines, computer on-line systems, servers, or providers, computer equipment, software, technical problems or traffic congestion on the Internet or at any website, or any combination thereof, including any injury or damage to participants or any other person's computer related to or resulting from participation in or downloading any materials in this promotion.

Prize Details
o    The prize is cash equivalent to the individual 1 month salary only.

o    Proof of salary certificate must be attached below without which the entry will be considered void.

o    The prize will be rewarded as cash or credited to the individual's bank account (as and where deemed fit by Channel 4 Radio Network)

o   Prizes are non-transferable and all decisions on prizes taken by Promoter will be final

Data Privacy
o    You hereby acknowledge and agree that we may keep any and all data which can be used to identify or contact you, including, but not limited to, your name, nickname, address, email address, telephone number (Personal Data) that you or others give us during your relationship with us or which we otherwise obtain through your use of a Site or your participation in a Competition.

o    You represent and warrant that you have the right to provide any of the information requested by us, including in respect of Personal Data, and that you hereby give us the right to collect, use and share relevant information about you, and your relationships with us.

o    The data collected can be used as per radio network or / and individual radio station's will or any of its entities for future station's marketing or promotional purposes and materials – online or/and offline basis organizer's discretion.

o    Channel 4 Radio Network reserve the right to request additional information at any time as we deem reasonably necessary to ensure that you are not using the Site or participating in a Competition in violation of these Terms or any applicable law.