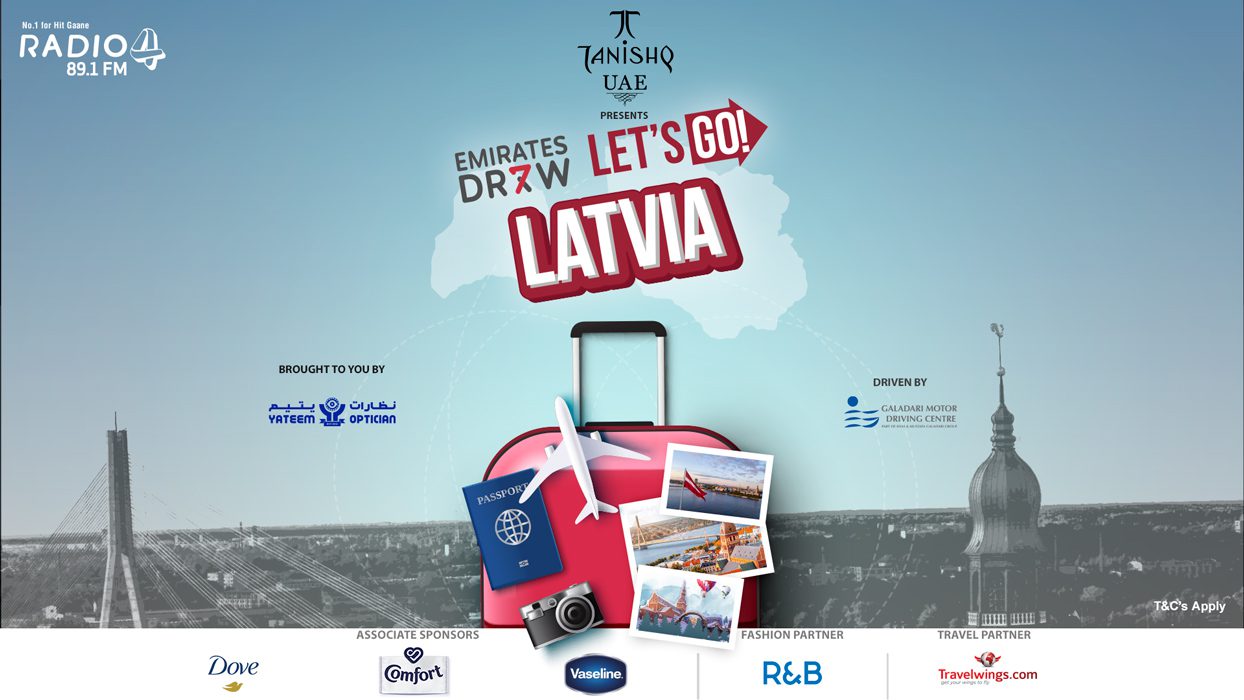 LET'S GO LATVIA - Terms & Conditions:
By taking part in the On Air competition – "LET'S GO LATVIA"   participant hereby agrees to the following terms and conditions. We advise participants to read and understand the below terms and conditions before taking part in the competition.
Competition Terms and Conditions -
Let's Go Latvia is a Channel 4 Radio Network promotion involving 89.1 Radio 4 FM, broadcasting in the UAE.
Contest is open to UAE residents with valid UAE residence visa only.
Following a period of pre-promotion and registration, listeners of 89.1 Radio 4 FM will have the opportunity to play an on-air contest called Let's Go Latvia.
The registration starts from Monday 2nd October, 2023 to Friday, 27th October, 2023
Participants will be selected to play from the online registration.
All winners will be contacted with all the details for Let's Go Latvia – travel requirements.
In case winner cannot travel during set dates – they cannot replace their entry or nominate any other family member / acquaintance and will be deemed disqualified.
Prizes cannot be exchanged or converted into cash.
In case of any last minute changes, travel bans or/and situations out of control such as travel halt/ country restrictions, Channel 4 Network will not be held liable to fulfill or reimburse in any form monetary or otherwise.
The winner of Let's Go Latvia competition agrees to accept all benefits of set travel plan / package in the knowledge that none of them are transferable. They are required to be adhered and followed as per the competition guidelines.
Once shortlisted as winner, the prize cannot be sublet or transferred to anyone else.
By entering to play, all participants give their full permission to be broadcast on any or all of the Channel 4 radio stations and to be publicized positively and reasonably through social media or any other media channels. This includes pre travel, during travel and post promotional activity as winner of Let's Go Latvia.
The cost of obtaining Schengen Visa for travel or any visa led cost (such as travel insurance etc.) will be borne by winner. Channel 4 Radio Network can help in issuance of letter for travel / visa documentation purpose.
All the contest queries or disputes should be addressed to the radio station management. Radio station management will have the final decision in such matters.
The Channel 4 Radio Network reserves the right to change or amend any of the above terms and conditions at any point in time without notice.
In the event of a force majeure- Channel4 Radio Network reserve the rights to cancel, postpone or change the competition in any way at its own discretion without any liability towards winners and sponsors of the competition.
Data privacy:
You hereby acknowledge and agree that we may keep any and all data which can be used to identify or contact you, including, but not limited to, your name, nickname, address, email address, telephone number (Personal Data) that you or others give us during your relationship with us or which we otherwise obtain through your use of a Site or your participation in a Competition.
You represent and warrant that you have the right to provide any of the information requested by us, including in respect of Personal Data, and that you hereby give us the right to collect, use and share relevant information about you, and your relationships with us.
The data collected can be used as per radio network or / and individual radio station's will or any of its entities for future station's marketing or promotional purposes and materials – online or/and offline basis organizer's discretion.
Channel 4 Radio Network reserve the right to request additional information at any time as we deem reasonably necessary to ensure that you are not using the Site or participating in a Competition in violation of these Terms or any applicable law.