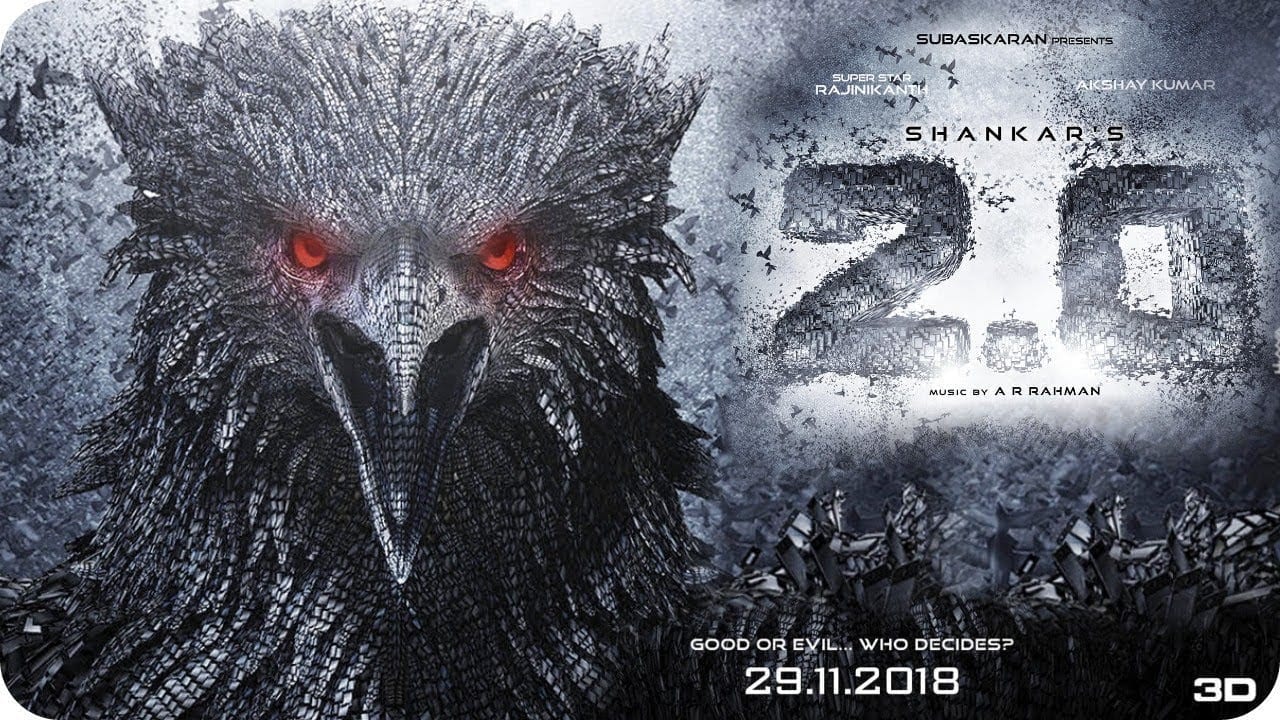 Cast: Rajinikanth, Akshay Kumar, Amy Jackson

Director: S Shankar
Reviewer: Ronak Kotecha 
What's it about?
In a world full of mobiles, there is an antagonist who is out for revenge against everyone with a cellphone. He will stop at nothing to kill the mobile menace, but before he succeeds he has to fight the upgraded version of your friendly neighborhood Robot Chitti. Who will you root for?
Review
Director S Shankar is a visionary. We Bollywoodwallas have grown up watching his grand futuristic ideas on the celluloid (Hindustani, Nayak, Sivaji the boss and Robot). They depict the despair of the present and the hope for the future and 2.0 is no different. However, do not compare it with the effectiveness of Shankar's other movies because 2.0 purely succeeds as a visual and action extravaganza.
https://www.youtube.com/watch?v=_AOxIFgitfI&
The story is convenient that requires superhero efforts to save the world and a lot of space to create a breathtaking make-believe world of special effects. Everything else is an accessory to this and hence it becomes important to watch and enjoy this film only on the big screen.
Rajinikanth plays up to his superstar image and Akshay Kumar makes a smashing Tamil debut as the villain. But make no mistake, he will pose no threat to your senses, rather add to the chuckles that this magnum opus unintentionally brings to the table.
Amy Jackson as the female lead plays the humanoid with pitch perfection due to her natural flair for zero expressions. Thankfully, she too gets some world-class action to make up for the usual loss of acting.
Rahman's music is a big let-down in the Hindi version. The story flips back from the past to the present trying to involve you emotionally but none of it gets your attention like the stunning special effects spectacle that 2.0 puts up in the second half. The last 30 minutes or so is an especially paisa vasool time for the large mass of audience consuming this mammoth effort built over the years. Kudos to the team for that because it consumes you fully.
Overall, if you're a fan do not miss director Shankar's vision on a big screen, it doesn't have the cult element like his previous blockbusters, but you will leave the theatre adequately entertained if you watch it like his audience and not like his critic.