Cast: Kiara Advani, Aditya Seal, Mallika Dua
Rating: ⭐⭐
Director: Abir Sengupta
What's it about:
Indoo's quest to find true love goes horribly wrong when she thinks that she has ended up with a terrorist on her first date itself.
Review:
Indoo ki Jawani – don't get fooled by the name and think that this is an exciting coming of age drama/comedy/erotica – because this is neither. This is a wannabe comedy trying to be also a slight thriller with a dash of patriotism and it fails miserably in all departments. Of course, you don't get that feeling right away because the film opens with a promise.
In its very scene, we see Indira Gupta (Kiara Advani) staving off her pervert boyfriend who wants to get down and dirty with her ASAP. And in the very next scene there is a shootout on a police officer by a terrorist. One would think that the stage is set for some solid action and thrill, but alas, writer-director Abir Sengupta makes sure he takes you on a regressive, stereotypical hamfest of lecherous uncles and hormone raging teenagers – all of them crazy for 'Indoo', who literally is the only beautiful belle in the entire town of Ghaziabad. But like a true blue Bhartiya Naari, Indoo is looking for 'sachcha pyaar', especially after her sleazy boyfriend cheats on her. So she turns to her best friend Sonal (Mallika Dua), who she calls Google because she is Miss-know-it-all, especially when it comes to 'what men want.' Sonal's advice – hit the dating app Dinder and find a guy to fool around with! Indoo signs up. RIP Logic! Oh but wait there's more ridiculousness. The police in the town are looking for two terrorists, who according to them are from Pakistan, but beyond that they have no clue – much like the makers of the film. Amidst of all of this, Indoo's family decides to leave her home alone for a week and she makes the most of it by calling her Dinder date Samar (Aditya Seal) home.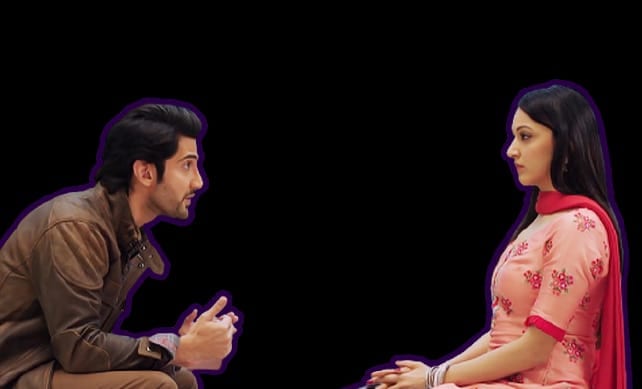 If the plot hasn't already fried your brain then read on. The biggest problem with this so-called comedy film is that it is NOT FUNNY! Neither is there any attempt to salvage the goings-on by the characters, performances and their dialogues that are either unfunny, regressive, judgmental, objectionable and at most times downright crass.
Kiara Advani looks great but she sure cannot do comedy. And she sure cannot redeem a film so weak in its writing that it literally mocks its viewers' sensibility. Aditya Seal is also a good-looking man, who also needs some serious lessons in comic timing and expressing himself. May be spend less time in the gym and more at that acting class. The character actors are another level of disappointment. The only known face in all of them, Rakesh Bedi, is relegated to dull lines and being a perverted old hag, who tries to make passes at a girl his daughter's age. The only reprieve are the songs that are well shot with vivid imagination and the small-town setting.
Indoo ki Jawani is one the very few films that has released theatrically all over India post the easing of lockdown restrictions due to the coronavirus pandemic. But if Bollywood thinks that this kind of content will pull the public back into the theatres then good luck.