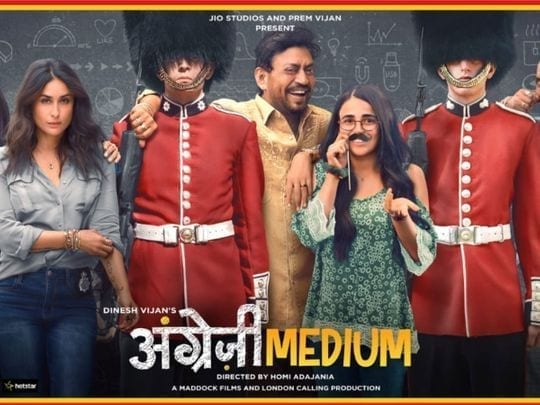 Cast: Irrfan, Radhika Madan, Kareena Kapoor, Deepak Dobriyal
Director: Homi Adajania
RATING

What's it about?
A father goes beyond his means and beliefs to fulfill his daughter's ultimate dream to study at a top university in London. What will it cost him?
Review:
Champak Ghasitaram (Irrfan) is a confused man. But only when it comes to himself. For his daughter Taru (Radhika Madan) he cannot be more sure. She gets whatever she wants. And the only thing she wants is to go to London for further studies.
It's a simple plot but for reasons best known to the makers, Angrezi Medium takes a long cut to get to the point. Along the way, the film's narrative tumbles multiple times as it tries to pack in too many characters, sub plots, comedy, drama and heartwarming moments. Some of it sticks especially in the first half when the story is focused on the bittersweet sibling rivalry between Irrfan and Deepak Dobriyal - the two powerhouse performers who are single-handedly responsible for lifting this otherwise mediocre script. They bring in the laughs, emotions and drama that makes it all worth it in the end.
But all the same, the film does gross injustice to its female characters. A superstar like Kareena Kapoor is reduced to a few scenes and an unconvincing character. Ditto for veteran actress Dimple Kapdia and the film's other protagonist Radhika Madan is given a character that is constantly meek, sniveling and irritatingly ignorant of her father's struggle.
And the struggle itself is marred many times by various acts of buffoonery and clowning around that reduce its seriousness.
Ultimately, it's a stellar act by Irrfan that saves the day and makes Angrezi Medium a film worth watching once, if you're his fan.
BY @REVIEWRON