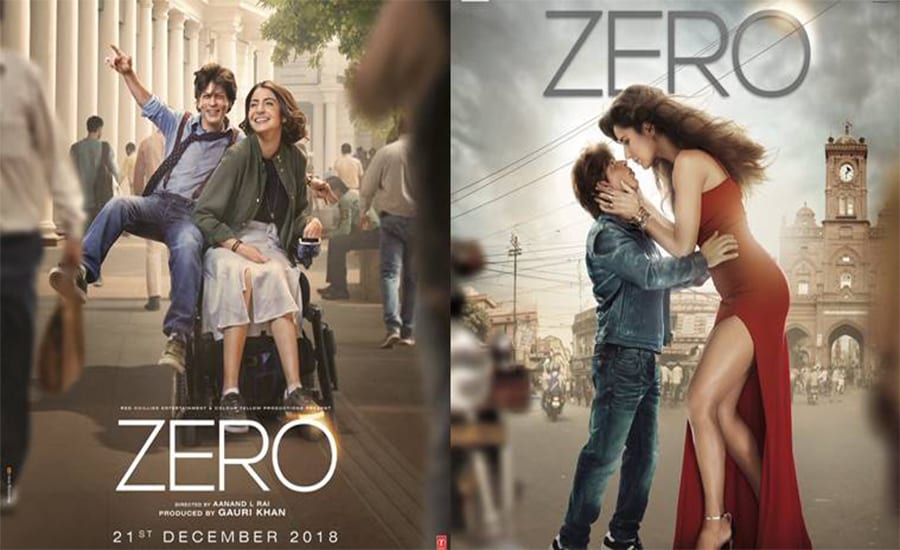 Starring: Shahrukh Khan, Katrina Kaif, Anushka Sharma
Director: Anand L Rai


What's it about?
A dwarf who dreams much bigger than his height and means falls for a disabled yet world-renowned scientist and dumps her for the nation's biggest superstar. But will his unruly cheekiness in winning over these women end up in a mess?
Review
You know what happens when there is Shahrukh Khan and two gorgeous women, right? So yes Zero is, by all means, a twisted tale of love, but you will just have to sit through two and a half hours of bizarre goings-on to see just how illogical it is.
The film starts like it's a sequel to Fan. Shahrukh Khan's look for the midget size man Bauaa Singh is spot on but his character is all too familiar from his previous self-indulgent disaster Fan.
However, there is the trademark SRK charm that makes all his over the top musings bearable and some good comic punches to cheer for. There are typical moments of love and romance with colors splashed in dreamy sequences even when it involves a wheelchair-bound scientist who has found water on mass, no less. Heck, she is even packing off humans to the planet and is quite immodest about her achievements. Such disjointed logic is but nothing compared to the fact that she is looking for potential grooms at a very shady local matrimonial office. But this is just the beginning. Zero is full of such irrational choppy narrative that kills the film's immense potential.
Director Anand L Rai is a master of creating small town wonders. Characters who are spirited, crazy and disruptive to the core. They have shades of grey to achieve their dreams and Zero follows a similar modus operandi. But the writing and execution are so flawed that it starts to hurt soon.
And amidst all of this, interestingly, Katrina Kaif as the troubled superstar comes across as the most endearing character. Her constant alcoholism in the wake of a messy breakup is relatable and of course, there is no doubt that she looks beyond a superstar even when she's walking into a mall teeming with fans wearing just a tee shirt and hot pants and completely wasted. On the other hand. Anushka's portrayal of a scientist par excellence with cerebral palsy comes off not only as dubious but also inconsistent and contrived. And it's the lack of collective logic that brings all of them down and lets you feel nothing for them.
Of course, there are moments in the film, there are ballad-like songs shot in slo-mo and bursts of colors, cameos from superstars including the late Sridevi, but nothing gives due to the lack of conviction in Anand's storytelling.
Overall, Zero is a star-studded tale of infinite possibilities, but without a soul, it lands absolutely nowhere.
 Review by: Ronak Kotecha