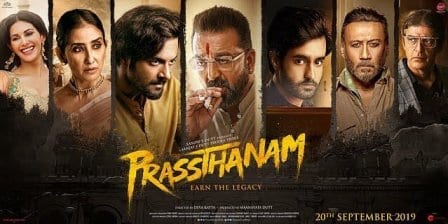 Cast: Sanjay S Dutt, Manisha Koirala, Jackie Shroff, Ali Fazal

Director: Deva Katta
What's it about:
A politically influential family is in midst of the elections in India's Uttar Pradesh. But their complex internal dynamic is far more lethal than any external opponent. Who will survive this Desi Game of Thrones?
 Review: 
I would be lying if I said that I had too many expectations from Prassthanam. This remake of the 2010 Telugu film with the same name by the same director looked like a heavy-duty political drama with blood, bullets, and backstabbing. And that is what it exactly is, but Prassthanam fares slightly better than the more mediocre films in this genre. The kinds that Bollywood churns out in bulk every year.
Prassthanam scores on a few counts like performances and the fast-paced plot twists. While some are predictable, some have the shock value. After a slow first half that introduces the film's myriad characters, the second half picks up the pace with some characters taking the center stage. Leading among them is the film's producer and protagonist Sanjay S Dutt. Baba has mastered the art of playing influential politicos of India's electoral badlands and the role of Baldev Pratap Singh is quite the home run for him. The actor is convincing in his act and successfully conveys the many shades of his complex character. Ali Fazal follows up with an equally good performance as a young political leader and the deserving heir apparent. Rest of the cast has some formidable actors like Manisha Koirala and Jackie Shroff, but they are royally wasted in poorly fleshed-out roles. Chunky Pandey is the only villain you can take seriously apart from the young Satyajeet Dubey, who is predictable but effective as the enemy within. The film's heroine Amyra Dastur is a great example of irrelevance. Her character adds absolutely no value to the story.
Even with minor digressions like unwanted item numbers and a hotchpotch of too many characters, Prassthanam manages to entertain in its long runtime. It is a decent one-time watch for those who like the lethal mix of people, power and politics, all in one big problematic family. 
BY RONAK KOTECHA